In Focus: Trend Micro Mobile Security for Android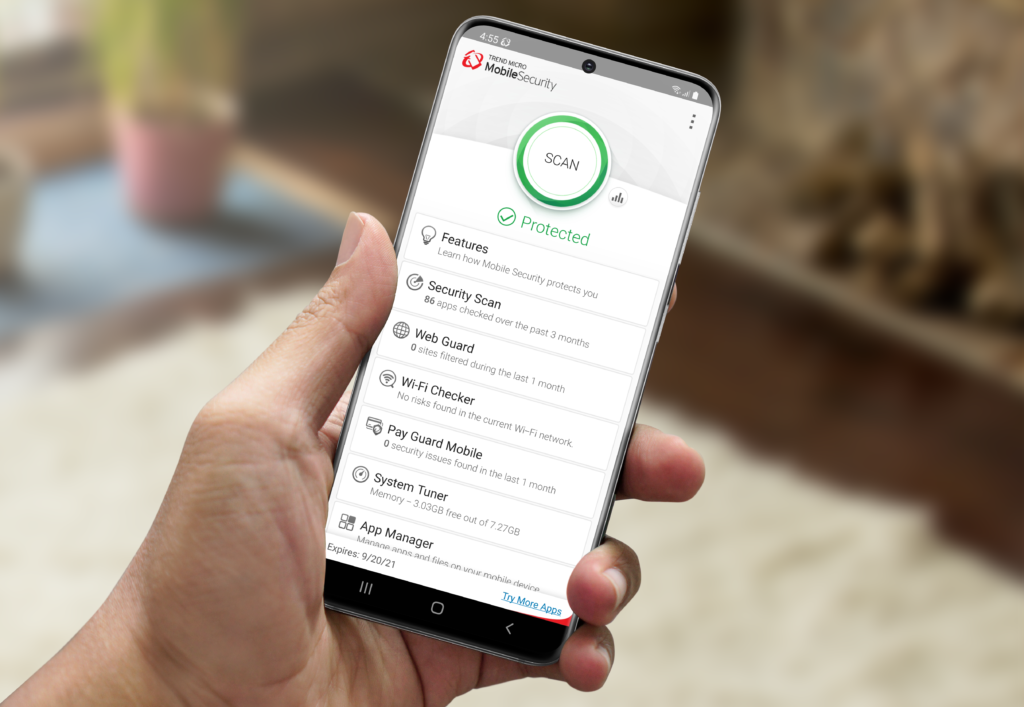 Being the popular and dominant operating system on mobile devices with 76% market share, Android is also the most vulnerable to cyberattacks. Threat actors keep seeking for new infection vectors and developing malicious mobile applications with improved techniques to avoid detection. These apps are often being distributed on Google Play and third-party app stores.

Researchers at Check Point proved that there is a substantial increase in the number of malicious applications. Among the 150,000 Android apps examined in Google Play store, they found that almost 7% contain a hidden backdoor.

Malicious apps are not the only concern on your mobile phones, it is also capable of storing large amount of data. Nowadays, mobile phones can keep photos, text messages, audio and video files, as well as other important documents for your work and your personal life. Having so much data on your mobile phone is already a good reason to think of security and privacy. Thus, we encourage you to install an Antivirus software on your mobile phones.

In this review, we will give you an insight on Trend Micro Mobile Security for Android and will introduce its comprehensive security features. It is also available on iOS with a feature set that is more limited, due to closed nature of Apple's operating system.

Trend Micro Mobile Security for Android is a freemium product with a 7-day trial period. The free version has limited functions that includes malware protection, memory optimization and social media privacy tools. The premium version (you need to purchase) enables additional security features such as web protection, Wi-Fi checker, parental controls and lost device protection.

Installation

Upon completion of the install, user is prompted to accept the license agreement, privacy and data collection notice. While the user is given a short tour of the app, an initial scan will run on the background to identify security and privacy concerns on your mobile phone. The result of the initial scan is summarized in a report together with recommendations that you can review later.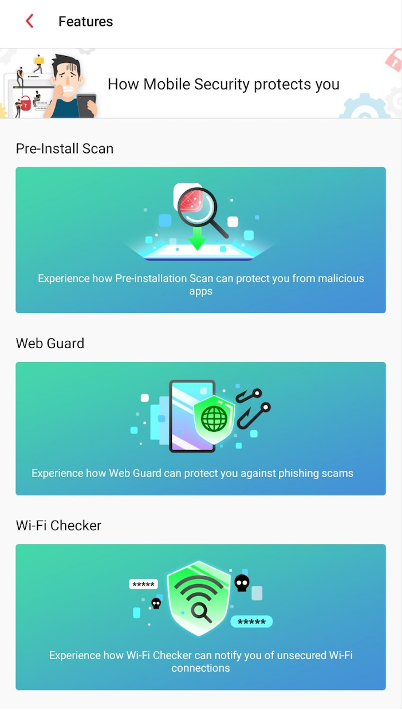 Security Features
The main screen showcases all the functions, but we will highlight four security-related components: anti-malware, safe browsing, privacy and anti-theft.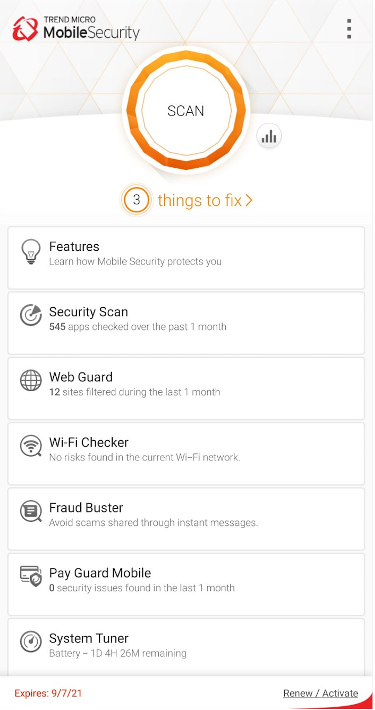 Anti-Malware

By default, the security scan only checks for apps and it is set to Normal (sends alerts for regularly used apps, ignoring minor risks). The setting can be adjusted to High or Low depending on how extensive the notification you would like to receive.

You can toggle the settings for Real-Time Scan, Pre-Installation Scan and scanning of internal and external storage. Pre-Installation Scan checks new apps from Google Play store or downloaded APK files from third-party sources for security before it gets installed on your device.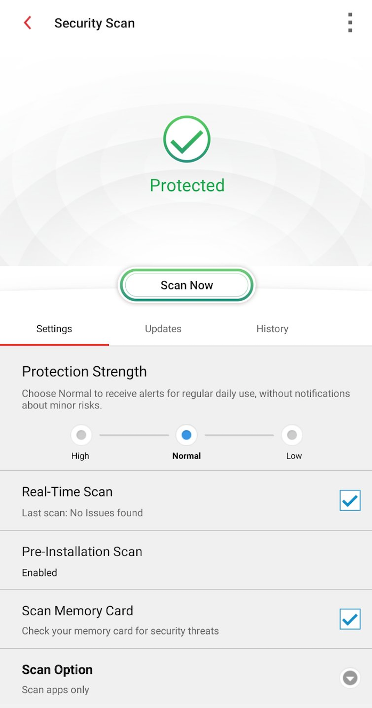 Scheduled scan is not always offered by most mobile antivirus software. However, with Mobile Security, it can be triggered after every successful automatic signature update that can be set as daily, weekly or monthly.


The recent malware protection test conducted by AV-Comparatives put Trend Micro Mobile Security on top spot with 100% protection rate and 0 false positives, together with Bitdefender Mobile Security.
Safe Browsing

Web Guard protects you from visiting dangerous websites, which can transmit malicious software and explicit or unwanted pages that has been involved in fraud and phishing scams. It uses a high performance local Virtual Private Network (VPN) to filter all network traffic. Web Guard extends protection on apps that offer in-app browsing without affecting how the site renders its content. You will see a key icon on your device status bar that indicates Web Guard is enabled.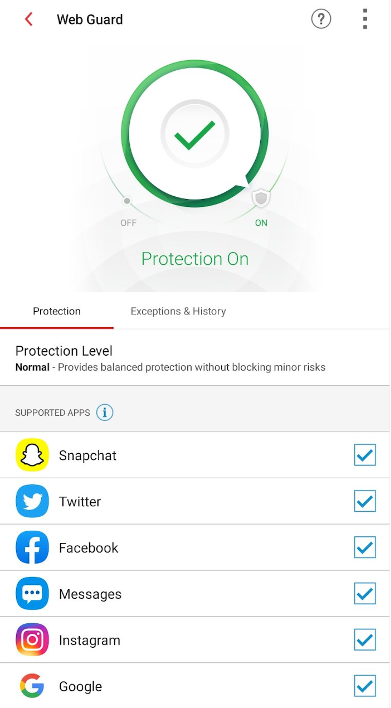 Similar with security scanning, the level of threat protection can be set to low, normal, or high. Users can create a list of approved and blocked websites, and it records a history of websites that Web Guard protected you from. Web Guard also allows you to report suspicious website to Trend Micro to check its safety status.
Additionally, Fraud Buster can protect you from potential scams or smishing by checking dangerous links contained in suspicious SMS text messages.
Privacy

Mobile Security is pushing privacy as one of its priority. First, it has a Wi-Fi Checker that scans currently connected network for suspicious interference and whether it is unsecured (password protected).

You can enable Pay Guard to keep your personal data secure when you open online shopping and banking apps.

Lastly, Social Network Privacy checks how much information you share on Facebook and Twitter, and identifies privacy risks that you can configure from your account.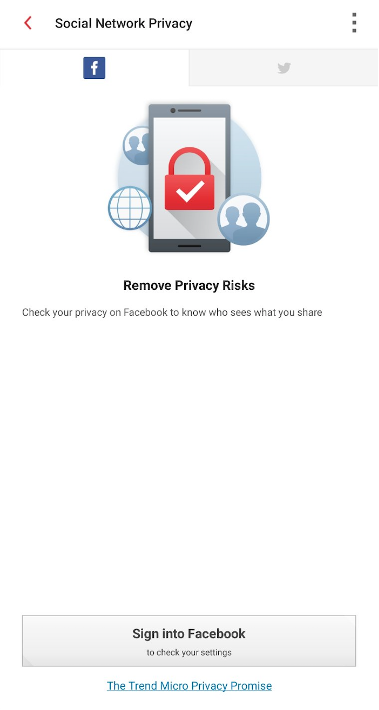 Anti-Theft

What will you do if you can't find your phone or if it's stolen? Your phone manufacturer and Google may have "Find My Phone" service, but it is not enough to assist you to get your phone back. Trend Micro Mobile Security's Lost Device Protection component is the anti-theft solution to assist you in locating your phone. It also has features that allows you to have more control on your device increasing the chances of getting it back. You can access the Lost Device Protection portal to issue remote commands such as locate, lock, send an alarm, delete or reset your mobile phone. There is also an option to lock the device when the SIM card is changed or removed.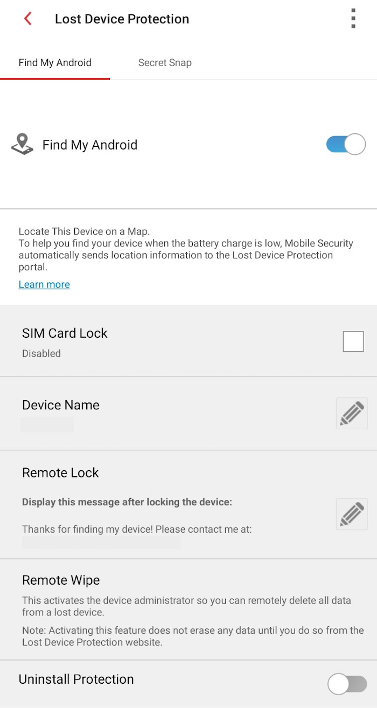 The Uninstall Protection requires the Trend Micro account password to successfully uninstall the app on your mobile phone. There is another interesting feature called Secret Snap. It takes a photo with the front camera after a set number of failed unlock attempts, and this is sent to your nominated email account.
Additional Features
Parental Controls – Locks specific apps and filters website containing contents not suitable for children and teenageSystem Tuner – Optimize your device performance in one tapApp Manager – Allows you to remove unwanted files and apps
Conclusion
Trend Micro Mobile Security has an extensive feature set to tackle your mobile security requirements, along with extra value-added components. Trend Micro demonstrate 30 plus years of expertise in the field of anti-malware service and cybersecurity. A validation of their work is the recent AV-Test Institute's product review and certification, where Trend Micro Mobile Security earned a perfect score on malware detection and usability, including performance and false positives.

Moreover, the user interface of Trend Micro Mobile Security is very intuitive that'll provide seamless user experience. If you are still looking for a mobile security app for your device, Trend Micro Mobile Security is your best pick.