Best Zip & Unzip for Windows and Mac 2023
File compression and decompression software is one of the most frequently used utility software on computers. Whether you are downloading files from websites or transferring files with others, you will need to use this type of zip extractor at some point. While macOS and Windows 11 come with built-in zip unzip applications, these applications have their limitations. Here are some user-friendly zip and unzip software recommendations, including free and partially paid versions.
Unzip One is a popular compression and decompression tool available in both macOS and Windows versions. Its interface is clean, and the UI design adheres closely to the native app design guidelines of Windows and macOS, giving it a refreshing and natural appearance. It supports more than 60 compression and decompression formats, including common formats like RAR, 7Z, ZIP, and more. Additionally, it supports encrypted compression and password decryption. The file preview feature allows you to quickly preview files without decompressing them. One of its notable features is secure decompression, which can identify security risks in compressed files, preventing the inadvertent downloading of virus, trojan, and adware-infected compressed packages.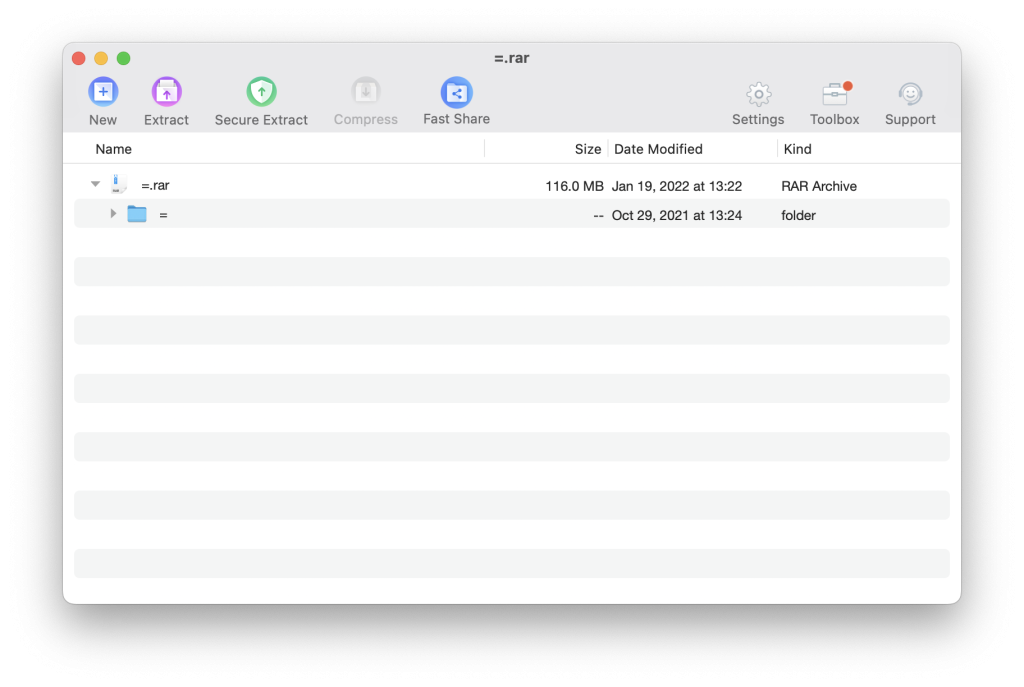 Supported Platforms: Mac, Windows

WinZip
WinZip is also an old-school compression software, and it is a paid one. Its interface differs significantly from others. It resembles Windows Explorer, displaying recently opened files and frequently used folders on the left sidebar and providing an overview of the currently selected file on the right. This way, you can obtain basic information about the file without opening it.
WinZip also offers a powerful preview function for files within the compressed package. You can view images, documents, videos, and other contents within the package conveniently, just like in Windows Explorer. For compressed packages containing multiple images, you can use the WinZip image viewer to view them continuously.
WinZip also supports volume compression, 256-bit AES encryption, and the creation of self-extracting files, making it suitable for more professional users.
Supported Platforms: Mac, Windows
Bandizip
Bandizip is a GREEN software, open-source, feature-rich, with a clean interface, no ads, no background processes, and no intrusive pop-ups. If you have been using some rogue compression software, you will feel refreshed after switching to Bandizip. Bandizip supports Windows 10's high DPI display scheme, so even if you are using a 4K screen, the interface won't become blurry due to DPI mismatch. Compared to similar software like WinRAR and WinZip, Bandizip has better support for the 7z format, and except for not being able to compress RAR due to licensing reasons, it has almost no obvious shortcomings.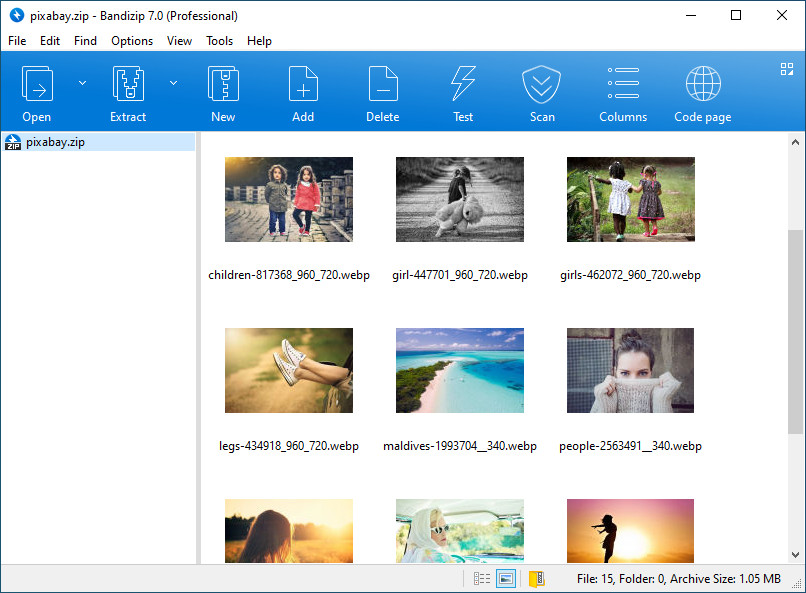 Supported Platforms: Mac, Windows
WinRAR
WinRAR is a powerful file compression management tool with extremely high compression rates, a competitive advantage it has maintained since the DOS era. Through numerous tests and years of usage, it has been proven that WinRAR's RAR format generally achieves a 10-30% higher compression rate than other ZIP formats, especially with its optional lossless compression algorithms specifically designed for multimedia data. Even if you download damaged ZIP or RAR files from the internet, WinRAR has a high repair rate.
Supported Platforms : Windows, Mac
7-zip
7-Zip is a completely free and open-source file unzipper software with a simple and compact interface. Compared to other compression software, it uses the LZMA and LZMA2 algorithms for the 7z format, resulting in extremely high compression rates. It not only supports numerous mainstream formats and hyperthreading but also features a powerful AES-256 encryption algorithm for file encryption, enhancing file security. As one of the most classic compression tools, 7-Zip has been localized into 79 languages, making it widely popular worldwide.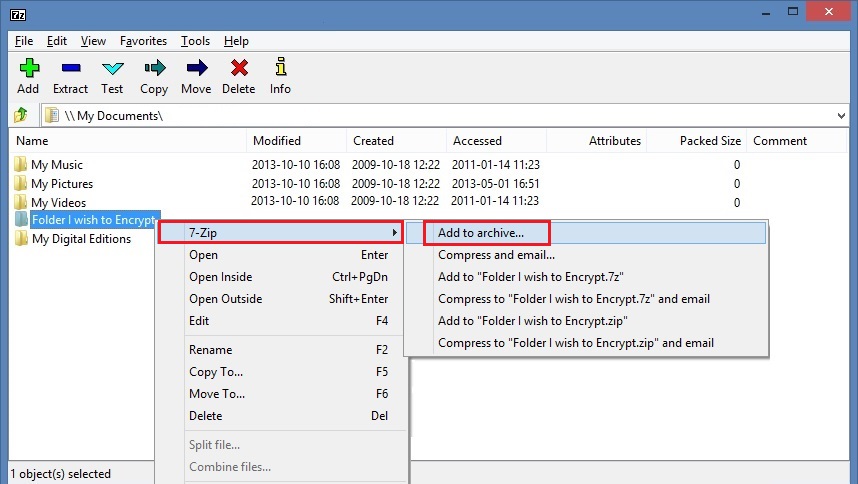 Supported Platform: Windows
Keka
Keka is a free macOS decompression software that supports compressing formats such as 7Z, ZIP, TAR, GZIP, and can decompress most formats like RAR, TAR, 7Z, BZIP2, and more. It is easy to use; you only need to place the Keka icon on the dock and drag and drop the files you want to compress or decompress onto it. Keka also prioritizes privacy and security. You can set passwords to create securely encrypted compressed files.
Keka has two versions: the official website version is free, and the store version is paid. Both versions offer the same functionality, and you can support the developer by purchasing it from the App Store.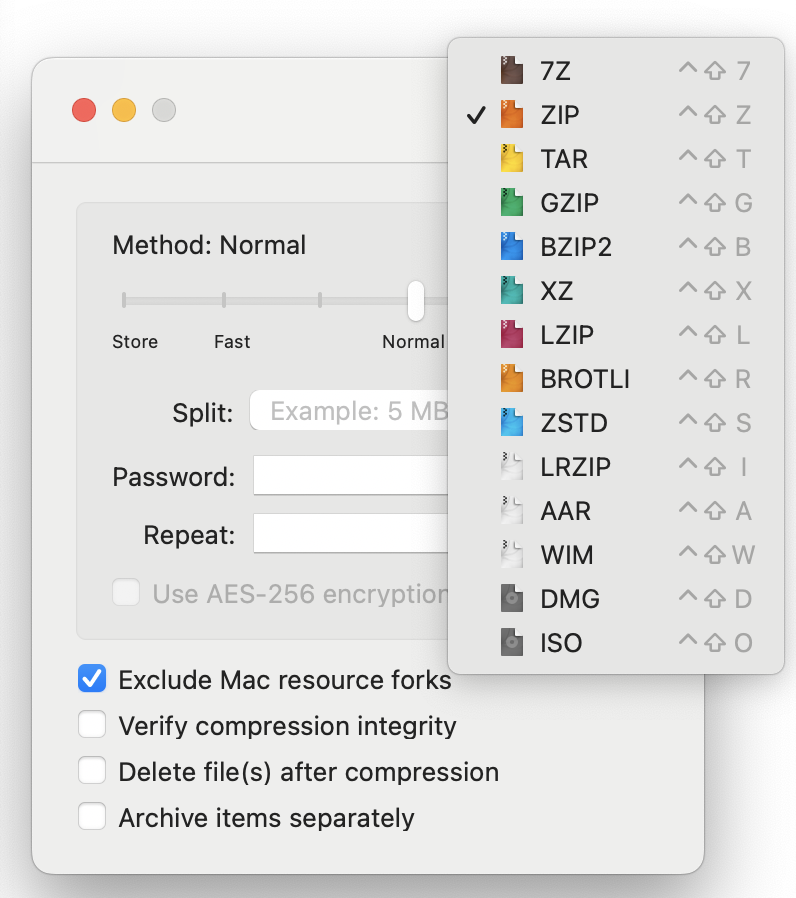 Platform: Mac
Peazip
Peazip is another free and open-source Windows compression software that supports 200 mainstream compression formats, including ZIP, RAR, 7Z, and more. In addition to the simple and clean interface, Peazip offers better appearance and functionality compared to the minimalist 7-Zip. You can directly view the contents of a compressed package, browse other compressed packages on your computer in the built-in file manager, and view image files within the package. Peazip also provides smart decompression, similar to Bandzip's automatic decompression feature. It can automatically determine whether to add an outermost folder based on the file structure within the compressed package, preventing the desktop from getting cluttered after decompression. If you want a better and free decompression software, Peazip is a suitable choice.
NanaZip
NanaZip is a free and open-source Windows decompression software that helps with daily file compression and decompression tasks. Although it doesn't have many powerful features compared to other decompression tools, it provides excellent support for Win11. You can directly use NanaZip from the right-click menu to open compressed packages or decompress selected files, eliminating the need to click for more options each time. The software also offers various functions, such as extraction and testing.
The Unarchiver
The Unarchiver is a free unarchving tool available on the App Store. Developed by MacPaw, its main function is to provide Mac with support for more decompression formats. It can decompress ZIP, RAR, 7-zip, Gzip, and other mainstream compression formats, as well as support older formats like StuffIt, DiskDoubler, and ARC. You can choose the archive formats associated with the software in the preferences setting.
The Unarchiver also provides decompression options, such as prompting after decompression, decompression to a specific folder, and automatically moving compressed documents to the trash.
While The Unarchiver is a simple decompression tool, it is fully adequate for occasional decompression needs, and it is completely free with no ads, making it highly recommended for use.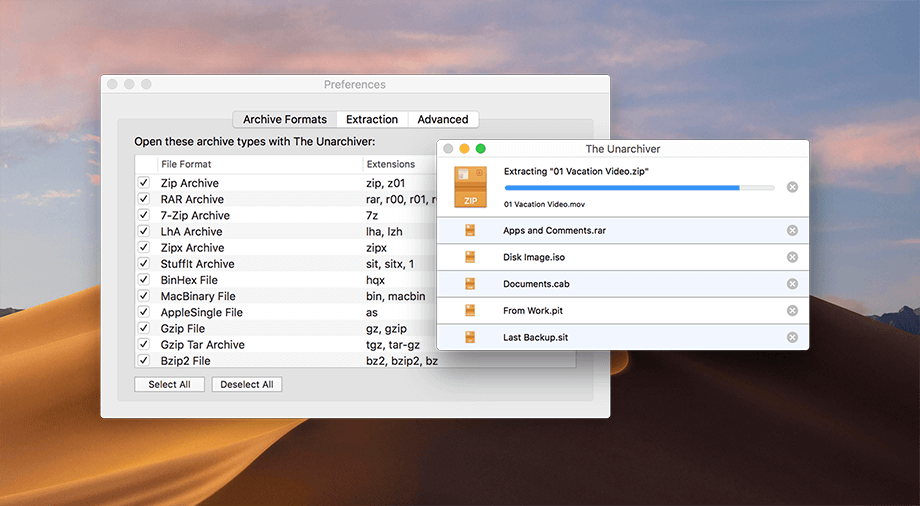 Supported Platform:Mac
ZipGenius
ZipGenius is a file compression utility for Windows that allows users to create and extract various archive formats, including ZIP, RAR, 7Z, and more. It provides a user-friendly interface and supports multiple compression levels to customize the size and speed of the compressed files. It supports over 20 file formats, including ZIP, RAR, 7-Zip, CAB, ISO, and more. It also includes a variety of tools for managing archives, such as splitting and merging archives, extracting files, and creating self-extracting archives.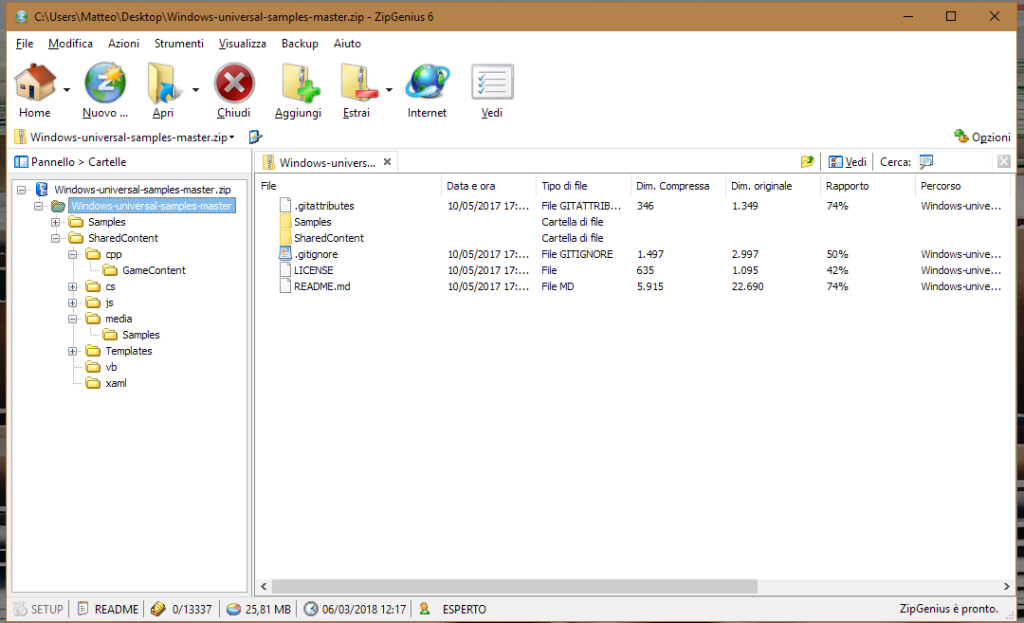 Supported Platform: Windows