Holiday Shopping Warning: Beware of Online Shopping Scams!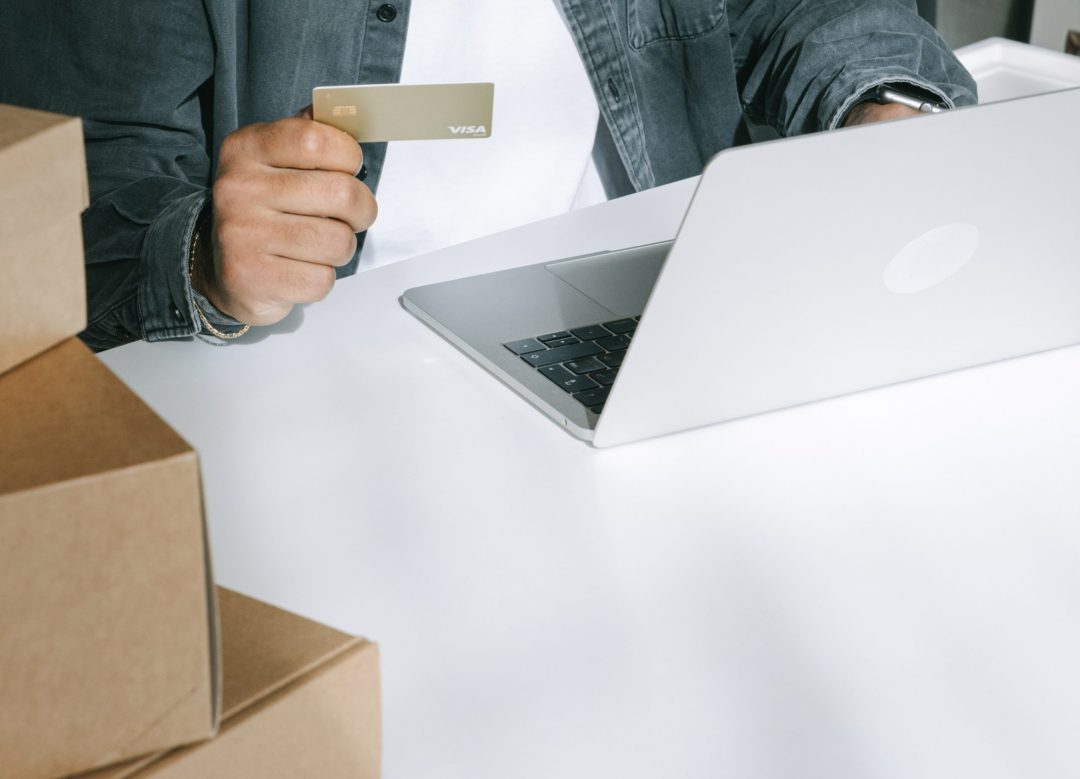 Black Friday, Cyber Monday, Thanksgiving sale…, people can't wait to enjoy the best shopping season of the year! No doubt some of you have started early holiday shopping recently, but are you sure you're ready to combat online shopping scams? Don't let scammers ruin the fun – let's shop safely this holiday shopping season!

Some Stunning Facts

1. People aged 18-24 have lost the most amount of money to online shopping scams in 2021, with a median loss of $125.
2. The median loss of an online shopping scam via wire transfer is $1,000; only 2% of the victims get their money back!
3. One-third of victims have received fake shipping information, and some noted that they didn't spot the scam because they expected shipping delays during the COVID-19 pandemic.
[Data Source: 2021 BBB Online Purchase Scams Report]
Common Online Shopping Scams
1. Fake Online Shopping Websites

Lots of fake online shops are out to exploit you. Watch out! Bogus online websites may provide products/services different than described or of low quality, and they may even disappear after customers have paid.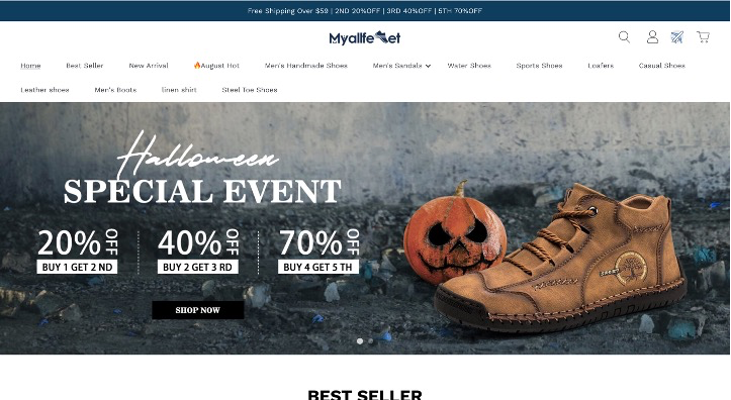 There is no guarantee when it comes to disputes or refunds. In the worst-case scenario, the websites can gain access to your sensitive information, and scammers will use it for identity theft.

2. SMS / Email Phishing

Text messages and emails with phishing links are one of scammers' favorite tricks. Posing as famous brands, they send you a phishing link and use various excuses to prompt you to click on it. Their tactics include:

(1) Fake Coupons / Gift Cards
Who doesn't love coupons? Scammers often send fake promotional SMS and emails to attract your attention: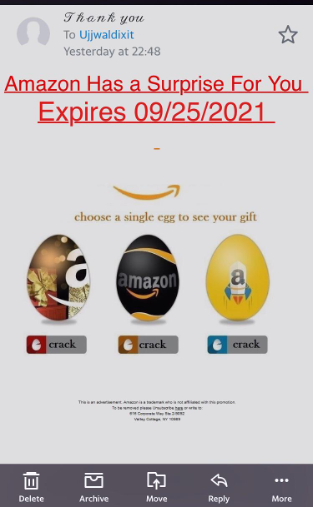 In other cases, fake coupons circulated via social media, for example: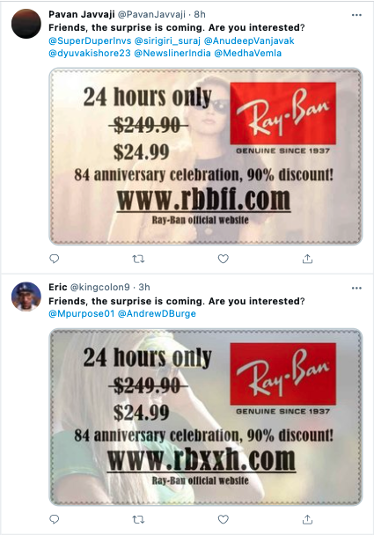 (2) Fake Shipment Notifications
People nowadays expect packages every now and then. Scammers pose as delivery companies and send fake delivery notifications. They claim that you've missed the delivery of a package or that you have to pay a delivery fee to get the package. The notifications always contain a phishing link that the scammers want you to click on: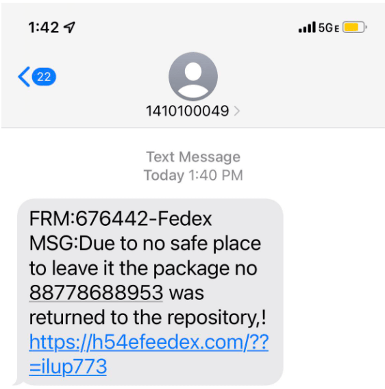 The scammers' ultimate goal is to steal your personal information. They direct you to phishing sites so they can collect your sensitive data. The phishing links will lead you to:
Fake online survey pages
In some cases, they lead to online survey pages that say you can claim a gift by completing an online questionnaire. After you fill out the survey, you are prompted to enter personal information like credit card numbers before your gift can be delivered.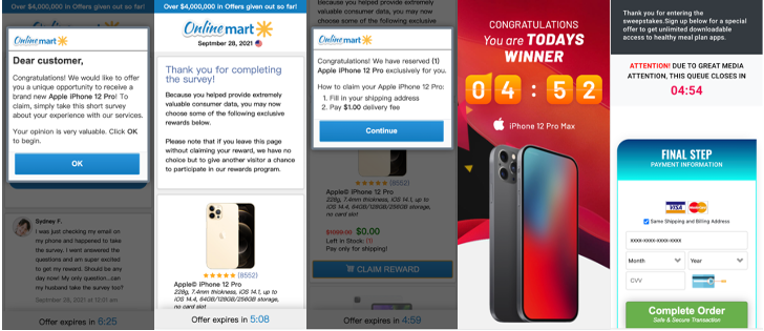 Fake log–in pages
In other instances, the links lead to fake log-in pages impersonating brands. These pages require you to submit login credentials to view your delivery status, change your settings, or whatever else the scammers have said that you need to do before your package can be delivered.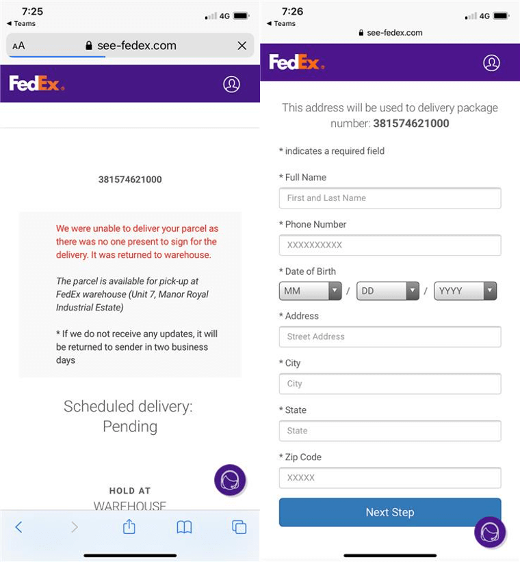 Scammers can record any information you enter on the phishing pages and use the data to commit further cybercrimes. For example, they could take control of your bank account, transfer all your money out, and even use your information to commit identity theft!

3. E-skimming

E-skimming, to put it simply, is when an online marketplace is compromised. First, hackers attack an online store and install a malware, enabling the website to collect customer's banking details when they make purchases. As in phishing scams, scammers can then record your credentials and use it for identity theft.

4. Pop-up Ads

Scammers also reach out to you via pop-up ads. When you are browsing the internet, ads leading to scam websites appear, luring you with irresistible prices: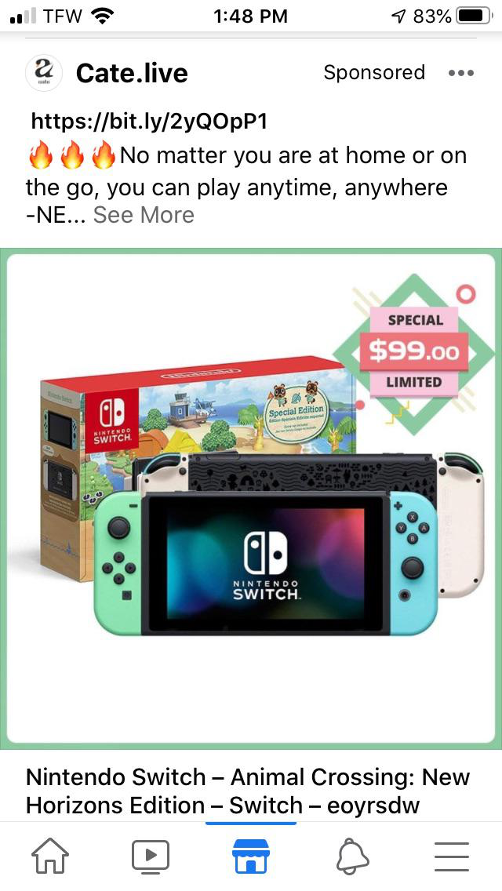 Red Flags
Too-good-to-be-true deals
Irrelevant customer reviews
Insisting on unusual payments like wire transfer or cash apps
Requests for detailed personal information
Typos and odd wordings
Strange website addresses
Invalid contact details
For more red flags of fake online shops, please visit here.

Tips to avoid online shopping scams
Only make purchases on legitimate online shops. Also, avoid direct purchases on social media platforms!
Do your homework and research in advance. Search for reviews, ratings, and comments about the online shop.
Use trusted payment methods. Standard payment processing networks such as Visa and Mastercard can offer more secure transactions.
Say no to unusual payment methods. Scammers ask the buyer to use payment methods other than the ones listed on the shopping site or marketplace, such as wire transfers or cash apps like Venmo, to complete transactions.
Never click links or attachments from unknown sources. If possible, log in through official sites or reach out to customer support directly for help.
Run a virus scan on your device. Trend Micro HouseCall is an online security scanner that detects and fixes viruses, worms, spyware, and other malicious threats for free.
Check if links are safe before you click. Go to the ScamAdviser homepage and enter the web address/link you want to check:


Alternatively, try using Trend Micro Check to spot the scams with ease:

1. Send links or screenshots of suspicious content directly to Trend Micro Check on WhatsApp or Messenger for immediate scam detection.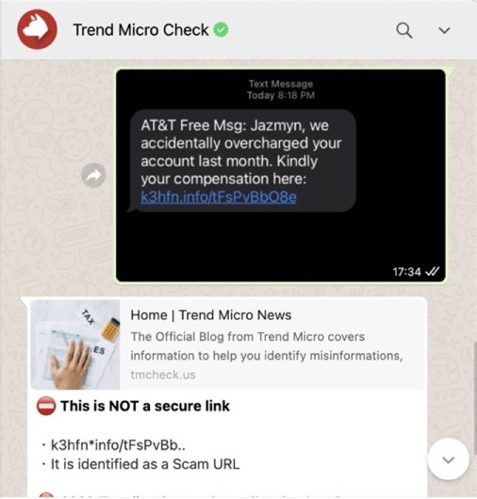 2. Trend Micro Check also provides free bulletproof on-the-go protection against scams as a browser extension — detecting and blocking dangerous websites automatically (available on Google Chrome, Microsoft Edge, and Safari).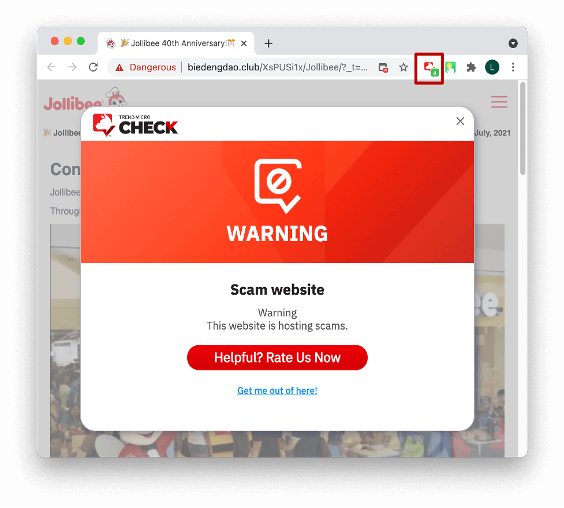 If you've found this article useful and/or interesting, please do SHARE and help protect your family and friends!